And here is another year finishing and I am looking back how did I do with my fitness.
I have not done well with regard to my class A running race, I wasn't able to make to the Jerusalem marathon due of passport problem of my kid and had to easy my running due of a bad ankle since February, but I still did a 1h32 half marathon by March and a 1h38 in L.A in Septembre, just in time to hit over 1000km by this year :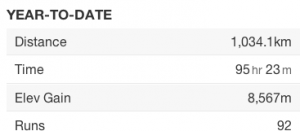 I have instead did much more cycling finishing a easy sportive in wales of 130km and a pretty hard one in south of france of 160km with a lot of mountains climbed. I made it to 5000Km (for my racing bike not counting my city bike which has around 500km on it) :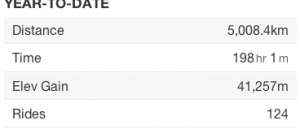 I would have done much more if I didn't have a bad upper shine when I was in australia where I was going to do a month of cycling.
This year looks promising with the Madrid Marathon in april (going for around 3h20) and probably some pretty good cycling trips during the summer if shin/ankle get sorted, I am looking forward to 2013.